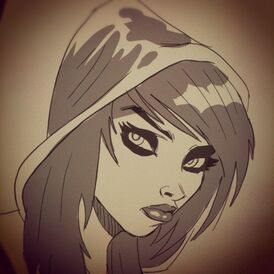 Linnéa Wallin (born 1994) is the daughter of an alcoholic, Bjorn Wallin and his deceased wife, Emelie. She is one of the Chosen Ones, and possesses the element of water. One of her abilities is mind-reading.
Biography
Edit
Race

Human (formerly)

Witch

Gender
Female
Status
Alive
Hair
Black
Carnation
LLight
Element
Water
Relatives

Bjorn Wallin (father) Emelie Wallin  (mother/deceased)

Olivia Henrikkson (Friend), Elias Malmgren (Best Friend) Wille (ex-boyfriend), Jonte (ex-boyfriend)

Vanessa Dahl (love interest)
Linnea's mother died in a bus accident when she was young, and was raised by an abusive father, who promised her many times to stop drinking, however he never kept them. When Linnea was eleven she was taken into social care, and lived in multiple step families, including Ulf and Tina who were kind to her, before they left to Africa.
Before starting high school, she received a flat in which she lived by herself. She was best friends with Elias Malmgren, since seventh grade, and developed a brother-sister relationship with him. His parents weren't fond of her, and thought she would bring him off the right track. She would protect him, when he was bullied. 
.
.
.
Appearance and Character
Edit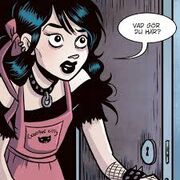 Linnea was described as dressing in an emo-like style. She wore black clothes, army boots, and thick, black eyeliner. Her hair is long and black with a long fringe, which reaches down to her eyes. She often wears it in two pigtails.
She seems to like the color pink, as she had nails colored in bright pink and a pink pattern on her skirt.
She sews a lot of her clothes herself.
Linnea is a Swedish form of Latin Linnaea, meaning 'twin-flower'.